Small prints can be tricky to work with
Sometimes young babies only have very small print and the lines are not always very defined.  It can be difficult to get these very fine prints into jewellery without losing definition.
I have recently been experimenting with new methods of tranferring your prints from the mould into your chose piece of fingerprint jewellery and I am pleased to say that I have found a way that is giving me consistently great results even with the smallest of prints.
When you place your order for a piece of Silver Fingerprint Jewellery you will be sent a kit which contains a two part putty. The fingerprint is taken into the putty which sets hard when the two parts are mixed to form a solid mould of your baby's print.  If you can see lines in the mould, they will be visible on the finished piece.
Buy keepsake jewellery suitable for a small print.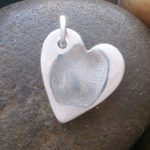 More information…
Small Baby Fingerprint Jewellery Charm