Personalised Jewellery for mums
Looking for a special gift for mum? You may well be considering an item of personalised jewellery.  Here are a few options for you to consider.
 A handwritten message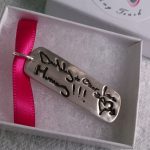 Children love to leave little handwritten notes for their mums.  This one was left as a little surprise from my client's son and his dad on the bottom of her shopping list! She loved it so much that she decided to have it transferred into a handmade silver pendant. I think that's a fantastic idea and really special.
A special print

There isn't much more personal than your own child's little hand, foot or fingerprints captured in a personalised piece of jewellery that you can carry with you everywhere you go!   You can even have your child's name stamped in their own handwriting if you like!
Start a story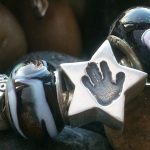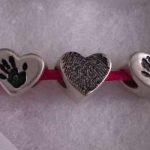 Charm bracelets are a great way to tell a story and are by far the most personalisable jewellery available for mums. Add to them whenever something significant happens in your life, a new baby, a wedding, starting a new job.
If handmade and customised jewellery is a little out of your budget, you can purchase pre-made beads and charms to personalise the bracelet yourself.   You can purchase special beads for significant events, however personalisation could be something as simple as choosing your mum's favourite colour combinations.
Personalise your packaging.
This is something you can do yourself.  As lovely as it is to receive an expensive gift, most mum's don't expect their children to spend their hard earned pocket money on personalised gifts!   Why not think about adding a little note to your jewellery gift. This could be handwritten or you could create your own little packaging slip.  Alternatively here are a few that you are welcome to print off and use.