Do you wonder why there are so many different prices for fingerprint jewellery?
The difference in prices of fingerprint jewellery is something that comes up regularly as something that my customers simply don't understand. So I thought I would write an article to try to explain.
Types of fingerprint jewellery artist.
There are three types of sellers in this industry. Small and large professional businesses and hobby artists.  Hobby artists are almost always cheaper as they do not have the overheads that professionals have.
Keep these following points in mind though.
Professional artists are more likely to have public and product liability insurance in place.  They are also more likely to have a returns and cancellation policy.
If ordering online, a professional business will also have privacy policies in place for protecting your personal data and ensuring that it is stored and used correctly and safely.
Professional artists will most likely have invested in learning extra skills and purchasing quality tools. Equipment such as a kilns and professional standard polishing motors can run into thousands of pounds, but they do ensure a better quality of product.
May new artists and hobby artists will only be able to fire their keepsake jewellery with a gas torch.  (I'm not knocking that, I started out that way myself!)   999 fine silver is the only type of silver that can be torch fired and so this is usually the only type of silver that a hobby artist will be able to offer. Kiln firing allows the artist to work with sterling silver and creates a more durable product.
Large businesses usually charge more, but this doesn't always mean you get more!
Here's what the higher price of your jewellery might be paying for…
Overheads – big companies often have staff to pay and offices and workshops to run.  Again, the cost of the piece you buy is reflected in that.   You can get a beautiful piece at a fraction of the cost by choosing a smaller business artist.  Maybe someone who runs a professional business but works from homeand does not have staff.
Big advertising spend – this money has to come from somewhere and a strong online presence doesn't come cheap! Advertising via google and facebook etc will be recouped in the price of the product, don't be fooled into believing that just because a company is big and has staff that the quality of the finished jewellery will be any better than that of a smaller businesses.   Many small businesses rely on reviews and word of mouth, sometimes alongside a small advertising budget to get themselves known.
Once you have established that you are comparing like for like businesses, then there are some other things to consider.
Actually, if you do your research there's not always as much difference in price as you might think.   A lot of artists will display what looks to be a low price but then charge extra for a print kit and postage.  Some may even expect you to add your own postage stamp when returning your print kit.
If you are supplying your own prints or using an artist that's local to you then this might work to your advantage.
Some artists prefer to display a price that includes the print kit and postage. Usually artists who work with customers all over the country rather than mostly local will adopt this type of pricing structure.  If you want to be able to order online and have your kit and finished jewellery conveniently delivered in the post, then this type of pricing structure will most likely benefit you as it is simple and shows you the price you will pay upfront.
Packaging.
How important is it to you that your jewellery comes gift boxed and presented nicely?  If you're happy to have it arrive wrapped in tissue paper inside a jiffy bag then you can save some money.  I imagine that if you are spending a reasonable amount of money on a piece of jewellery that this probably isn't the case though!  Personally I always supply my jewellery in a gift box and presented nicely and I would not compromise on that to save a couple of pounds.
Attachments
Are attachments included in the price? Sometimes a necklace is included, sometimes it's not.
What are these made of?  At Lasting Touch I only supply sterling silver accessories (with the exception of split ring style keyrings which are stainless steel).  Some traders will cut the cost by using silver plated necklaces etc.  Be sure to check what you are getting for your money.
Summary
I hope this article has helped you understand what influences the price of your fingerprint jewellery.
Hobby Artists
In summary, if price is your primary concern then you will usually find that hobby artists are cheapest. You'll usually find them on marketplaces like eBay and Etsy (you'll find some small businesses there too).  Keep in mind that their prices are very low, there could be a reason.  They may not have insurance or be working with the best quality tools.
Small Businesses
If you are looking for a professional quality product and service but with a personal touch, look for a small business.  Most small businesses have a standard range of keepsake jewellery but many are also happy to customise them to your wishes or even design completely bespoke items for you.
Most businesses of this type will be in the mid price range but in my opinion offer the best value for money.    There is a good mix of well established and new businesses in this category, so plenty to choose from. Most small businesses will have social media pages as wells their own websites where you can find out about them and their products.   Some of these businesses really are the best kept secrets on the internet though! W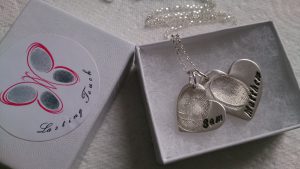 ithout big advertising budgets it can be difficult for them to get in front of the right people, so you may have to dig a little deeper to find them, try going two or three pages back on google rather than always clicking on the first link.
Large Businesses
A large business may be for you if you are someone who feels better about buying from a big brand.  These companies charge more but have bigger buying power, so their branding and packaging might feel more mass produced.  You are less likely to get that personal touch from these companies, you might not even know exactly who is going to be making your jewellery.  That may or may not bother you.
The benefit might be that these businesses are usually well established and are unlikely just disappear (though there are plenty of well established small business too!).   Don't be fooled by front page appearances on google or high numbers of social media likes. These are easy to get if you have a high advertising budget!  They certainly don't mean that the company produces better products than a smaller company.  It just means that more people know about them!!