Product Details
19

Product Reviews - Average rating / 5
(Show All)
---
Click to review this product
---
Hand charm
Lisa

-

21/03/2016
Very happy with my product. Will definitely be using this company again. Thank you so much
---
A smile forever
Gemma

-

12/01/2016
I bought this stunning charm and chain for my grandson to give his my mummy (my daughter) for their first Christmas. I watched as my daughter opened it, she had tears in her eyes and since then it has never left her neck. Fantastic quality. Fantastic ser...
---
My perfect gift
Annmarie

-

04/11/2015
Bought as a special gift to myself after my daughter was born through Ivf. Gemma was amazing & even plated in rose gold to match a special item of jewellery I have. Couldn't be more thrilled with the quality even tho it's small it's perfect just like my...
---
Heart Pendant
Craig Hitchens

-

13/09/2015
My partner absolutely loves her heart pendant, it has our sons handprint on it. Gemma did an amazing job, the handprint is so clear. My partner says it's the best present she has ever had. Gemma is so helpful and her communication is excellent. Would rec...
---
Fab just fab
suzie clubb

-

13/09/2015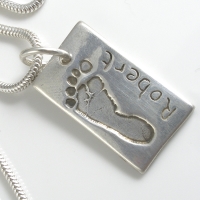 Really struggled finding something for myself to celebrate the birth of my son and Gemma at lasting touch really came through the purchasing process was easy and the jewel...
---
Perfect gifts for yourself or family
Val davies

-

13/09/2015
I am now on my 4th keepsake piece. Gemma is so approachable, answers messages straight away and gives a really good overview of the options available. She is utterly lovely but what I absolutely love is that her flexible payment plans are available for al...
---
Click to review this product
---