Jump straight to the jewellery ranges >>>
How do you make fingerprint jewellery?
I have included some basic information on this page about how your keepsake jewellery will be made.
If you are interested in learning the full process in order to make jewellery for yourself please see my courses and training page.
Fingerprint Jewellery
I often get asked how to make fingerprint jewellery. In theory it's really quite simple however in reality it takes a lot of skill and practice, professional training and good quality jewellery making tools make your precious fingerprint jewellery.
Here is just a small selection of the tools I use: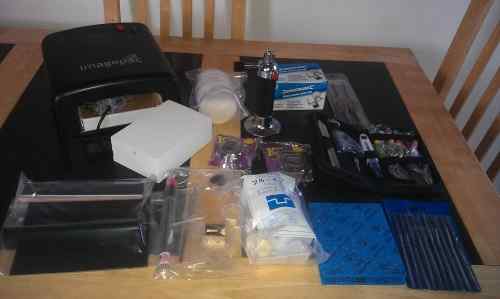 To make your fingerprint jewellery I will need a mould of your loved ones finger tip. This is created using special moulding putty that captures the tiny details on the fingerprint. This mould is used to create an exact replica of the fingerprint which is then used to imprint into the silver. Watch the video below to see how amazingly easy it is to make the fingerprint mould (scroll down for the inkless wipes video for taking full hand or footprints).



Buy a fingerprint Moulding kit >>>
Please note that you do not need to do this if you are ordering jewellery as the kit comes included in the price.

The jewellery is made from silver clay. This is so named because it is a clay like substance which can be made into any shape. I will create a cast from your fingerprint mould which is a relica of your fingerp tip. It is pressed into the clay to make the impression. The clay is then dried, finished, fired and polished to create a completely hand made silver charm.
It is also possible to make a fingerprint directly into the clay, if you are local and you would like me to do this I am very happy to do so.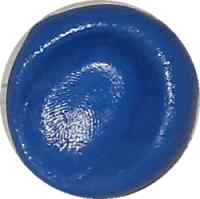 >>>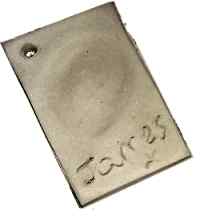 >>>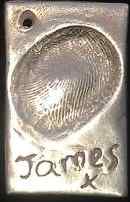 The clay jewellery is fired in a kiln to over 800°C. The firing process burns away the binder that makes the silver behave like clay, and leaves behind a solid piece of silver.

I prefer to work with sterling silver, however I am able to work with fine silver.

The images above are of the first charm I ever made, even with really good training it takes quite a lot of practice to make them look like nice. Below are some more recent charms I have made.
Browse the Fingerprint jewellery range >>>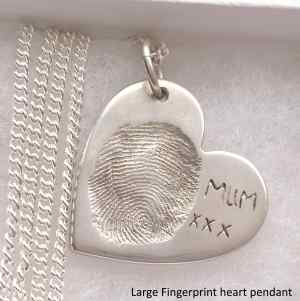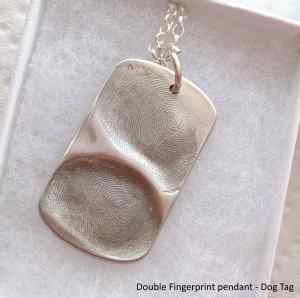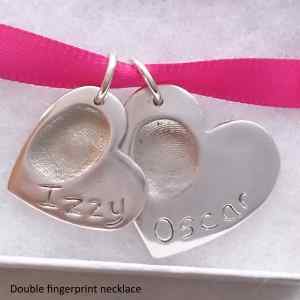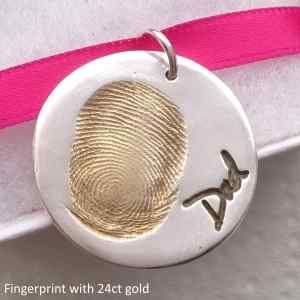 One technique you may see other people using is to press the finger directly into the clay. This works fine, but the downside is that if anything goes wrong in the creation of the charm or if the charm is lost or stolen, it is impossible to create another one like it. I prefer to take a fingerprint mould, as this way if anything were to happen to your charm you could have another one made from the same fingerprint. If capturing an exact moment in time is important to you, I recommend this method. Think about how you would feel if you had a baby's fingerprint charm made, and then a couple of years later you lost it, you could never get that print back if it had not been preserved in a mould. Each mould is sent back to you along with your jewellery and the cast is kept here in case you would like to order more jewellery.
Ink print jewellery
If you don't have moulds available but you have good clear prints on paper, these can also be used to create a precious keepsake. The 2d image of the print is used to make a 3d stamp that enables me to stamp your print into your jewellery creating a wonderful textured piece. Unlike with machine engraved pieces, these handmade ink fingerprint charms have a deep set print.
I can use prints taken most fingerprinting techniquesincluding fingerprint pads, ink or pencil. Inkless prints also work but not as well as black ink. The print does need to have nice clear lines, a smudged print will not produce very good results.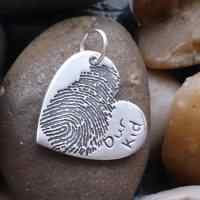 Browse ink fingerprint jewellery >>>
Hand/foot/paw print jewellery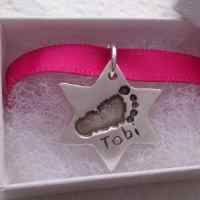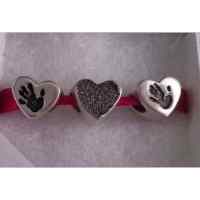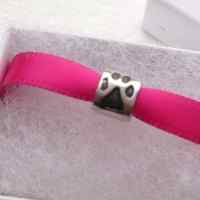 This is made in a similar way to the ink fingerprint jewellery. The same silver clay is used to create the jewellery but the print is taken using an inkless wipe system.
The wipe enables you to capture a clear print of the hand, foot or paw. Because it is invisible and not like thick paint, it captures a clear print including all of the fine details which sometimes get lost in paint prints. It's also a lot less messy!
Watch the video below and check out my blog post on How to get good handprints from your child.
The print is scanned in to my computer, I use special techniques to edit it to miniaturise it and create a negative of the print which is then used in a special machine to create a stamp of the hand,foot or paw print. this stamp is used to create an impression in the silver clay, much ike with the silver jewellery.
As with the fingerprint moulds, the prints used in this jewellery will be returned to you in case you wish to use them again or get them framed as an extra keepsake. I will keep a digital copy in case you'd like to order orjewellery in the furture.
If you have a hand or foot print previously taken that you wish to use to create a special piece of jewellery this can also be done, even paint prints can be used. I can accept images via email if you have a scanner or good photograph. Alternatively, a black and white photocopy will work just as well, I won't ask you to send me your precious originals.

View the hand and footprint jewellery collection >>>
Artwork and handwriting jewellery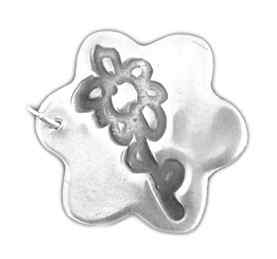 As with the Hand/foot/paw print jewellery, artwork jewellery is created using a miniature stamp of the drawing or writing. Because of the size, detailed drawings do not work well for this type of piece. It is best to choose a picture with strong lines. Children's 'stick' people drawings generally work quite well!

Artwork and handwriting jewellery >>>
Ashes and hair jewellery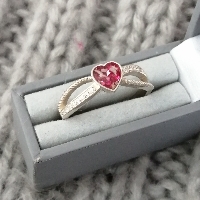 All of my ashes pieces are hand filled with specialist resin here in the studio. Each ashes piece is carefully made using using several layers of resin. The first layer is the colour, the second layer is a clear or lightly tinted layer in which your ashes hair or pet fur are incased and the third layer is a clear protective coating.
The pieces themselves are designed and created by a UK supplier and most designs can be made in silver, yellow gold or rose gold.