This has been an exciting week for me.  I have finally got around to clearing out the junk room that I used to call an office and creating a useful workspace!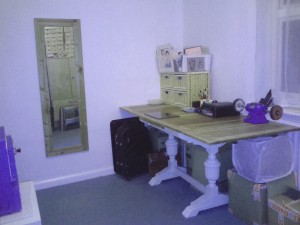 I found a beautifully restored table which fits perfectly and I have organised all of my tools and fingerprint jewellery making equipment so that I know where it all is! (I don't know how long it will stay like that, but it feels good for now!)
This feels like the next stage in growing my business, I am actually beginning to feel like I have a proper business, rather than just something I do to fit around my family, and it feels good!   Finally, no more working at the kitchen table! Having to get everything out to be able to work and clear it all away again to eat!
I really hope that this will also help me define my work/life balance.  Until now work and life have pretty much merged into one, but now that business is getting busier and more keepsakes orders are coming in it is getting more important to define the time that I am working and the time when the office door is closed and I am spending time with my family.  The benefit of having my workspace at home is that not only is it helping to keep my costs down, it also means that I can plan my working hours to fit around my family.  I can work early in the morning or late at night while my children are asleep, which is something I could not do it I had to travel to a studio or workshop.
By having a dedicated workspace I won't mind so much if I leave a job half finished,I I start a piece of fingerprint jewellery in the afternoon, it will still be there when I get back in the evening. I no longer have to clear all my work away into order to resume family life!