I simply love it when I get asked to make special pieces that have a real back story behind them.  So when I was asked to make this moon fingerprint charm for a little girl called Luna, I simply had to find out the story.  Thank you so much Katrina for sharing with me and allowing me to share with the world.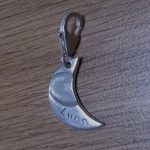 Bespoke moon fingerprint charm
When I was pregnant with my second child the only girls name that I liked was Luna.
As I approached my due date, I knew this would be the name for our baby if it was a girl.
I remember waking up in the middle of the night as the baby kicked, poked and prodded me. And as I looked out of my bedroom window, I saw the most amazing full moon high up in the sky. It was the brightest I had ever seen and took my breath away. It was so stunning that I took a photo of it and knew then that it would be the perfect name as Luna means moon in Spanish.
Coupled with the sentimental saying that my family always tell one another…love you to the moon and back…I just knew it was right name for our little girl. If I'd had another boy I would have been stuck as I had no idea what he would have been called. Ha!!
So to order a bespoke charm that has been hand crafted with my daughter's name and fingerprint on it means the world to me and is priceless. I will wear it with pride next to my son's heart shaped charm and will cherish it forever knowing that a little piece of my kids is with me always.
Thank you again, you are amazing!!
Do you have an idea of a custom piece you'd like to have made? Drop me a message to gemma@lastingtouch.co.uk or check out a few of my other
custom made fingerprint jewellery
pieces for inspiration.