I was recently asked by a lady if I could make her a piece of memorial jewellery with her mum's fingerprint.  Her mum had recently passed away and she wanted something that she could wear and feel close to her mum all the time.
Traditional fingerprint jewellery usually has the fingerprint on the front of the charm or pendant.  The back is often left plain or a message is engraved on it.
Memorial fingerprint jewellery can be done the same way and many people do like to display the fingerprint facing forwards on their necklaces, but this particular lady wanted something with the fingerprint on the back.  There were two reasons for this, one was to keep the fingerprint discrete and personal to her, and the other was the very special way she wanted to hold the memorial necklace to feel close to her mum.
"My Mum died 7wks ago and I'm 29. I won't have her there if I get married or have children… Even if I'm having a tough day! I chose to have it on the back because of the way I hold my pendants when I'm anxious; I put my thumb on the back and wrap my fingers round the front so my thumb will be on the top of her print. It's as close as I can get to her now. It's also like it's just for me; it's not obvious that the print is there but I will know." Helen Knight
Helen and I discussed in detail what would go on the front of the pendant, she had seen a piece of silver jewellery that I had made of out a real leaf and really liked the idea of a natural leaf print on the front, her mum is buried in woodlands and her body will provide nutrients for a tree so it was a perfect choice.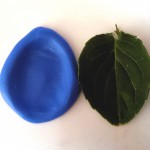 When the prints arrived I took them out with me in search of the perfect shape and size leaf to fit the print, in the end I settled on a hydrangea leaf as it had beautiful detail and was just the right shape.
I showed Helen and she was delighted.
Next came the tricky part, turning the leaf to silver and getting the print on the back. I had to use a different technique to how I had made previous silver leaf pendants, but it worked and this is the finished piece of hidden fingerprint jewellery.
"The leaf is because she was buried in a woodland and she will feed a tree.
Gemma was so good, I got the finger printing kit the following day. Even though I couldn't face sending off the mould for a while, she was kind enough to let me know she had received it so I didn't worry. Gemma has been fabulous at such a difficult time for me. I had seen another leaf she had done and felt it was the right design to go for. I can't wait to see it." Helen Knight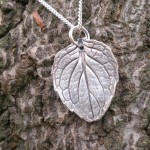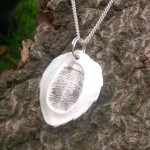 If you would like more information about how to purchase a piece like this please visit this link.
Silver leaf pendant with hidden fingerprint
Check out what people had to say when I showed this pendant on the Lasting Touch Facebook Page