Some people think this is a bit strange, but we do it every year and absolutely love it.
Every year my husband and I set aside 2 dates where we split up as a family.  On one of the days he will take my son out for the day and I will take my daughter out, and the other day we will swap.  We cal these our 'Daddy and Daughter', Mum and Son', Days.
The kids get to decide (within reason!) exactly what they want to do on their special days, this year both kids wanted to do a Theme park, so we all ended up at Lightwater Valley for the day…abeit separately!
We had a great time, I spent the day with my son and my husband and daughter went off and did their own thing. We waved if we saw each other, but we made a conscious effort not to make contact for most of the day.
This meant that both the kids could do exactly the rides they wanted to do with no compromising and no 'we'll do what your sister wants and then we'll do your thing' type conversations. Normally the kids are really good at sharing and making sure everyone gets to have fun, but this one day they are allowed to be completely selfish and have complete control over the day.
Which is a good thing because when it comes to theme parks our children are like chalk and cheese!  I did manage to get my son to ride the roller coaster eventually, but it took some serious persuading, but he's very cautious and takes quite a lot of time to work up to do these things.  My daughter on the other hand was 1st in the queue!  Of course once James plucked up the courage to go on, he loved it and went on twice more after that!
Yesterday was our 2nd date day. My turn to take my girl out whilst Hubby and Son had a day together.
The boys chose to go to Magna, a science museum in an old steel works.
My daredevil daughter on the other hand chose Go Ape at Sherwood pines!
Much to her disappointment (and my relief) she wasn't old enough to do the main treetop adventure, so we opted for the Junior one. The disappointment was short lived!
Once up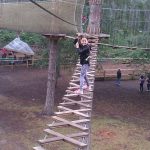 in the trees she was off!  I had to call her several times to wait for me as I clung on tightly to my rope.  Watching her ahead of me shouting ' Look mum I can do it without holding on!
Luckily her choice of afternoon activity was much more sedate!  We went for all you can eat Chinese buffet for lunch, where she happy stuffed herself with sweet and sour chicken, crispy seaweed and prawn crackers!   Then off to the cinema to watch Finding Dory.
All in all 2 great days full of memories made, and we're already talking about what we're going to do for our date days next year!
Do you set aside 1:1 time with your children? I'd love to hear what sort of things you like to do?